If you are a kidney stone former and you have been told to lower your intake of high oxalate foods, then this list will help you.
What the heck is oxalate?
Oxalate is a naturally occurring molecule that is found in plants and humans. In plants, oxalate helps get rid of excess calcium. But too much of it in us can cause kidney stones. Oxalate and calcium join together in the kidney and can cause kidney stones. Eighty percent of kidney stones are calcium oxalate.
This is the gold standard oxalate list researched and published by the folks at Harvard. My patients ask me all the time, "why should I trust this list when there are so many out there?" My answer has remained the same for the past 24 years. We (Dr. Coe and I and many other docs out there) trust this list because our patients lower their urine oxalate by using it. We know it works.
Have you been doing keto? Low carb? Are you a vegan? Vegetarian? Have you been eating healthy (lots of almonds and spinach) and lost weight but gained a stone? I have heard these and many other scenarios. Point is, I can help.
There is much more to the Kidney Stone Diet than just lowering oxalate. Join the Kidney Stone Prevention Course to learn how to use the oxalate list and all the elements of the Kidney Stone Diet.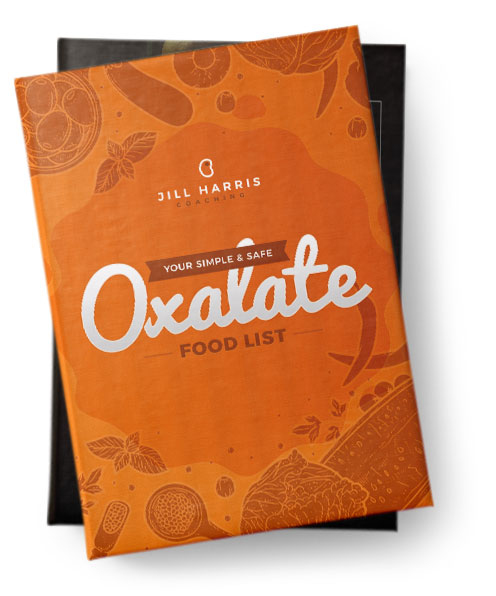 Free Oxalate Food Lists
Enter your email to download both my Simple & Safe Oxalate Food List and the original Harvard Oxalate Food List for FREE

---
Search the Oxalate List
100% Natural Granola Oats & Honey
1/2 cup
Alaskan King Crab
3 oz or 1/2 leg
All Bran with Extra Fiber
1/2 cup
Almonds
1 oz or 22 kernels
Apple Cinnamon Cheerios
3/4 cup
Apple Pie
1 piece or 1/8 of pie
Artificial Sweetener
1 packet
Baked Potato with Skin
1 medium
Berry Burst Cheerios
1 cup
Biscuits (plain or buttermilk)
1 biscuit
Blueberry Muffins
1 muffin
Bok Choy (Chinese Cabbage)
1 cup, raw
Bran Flakes with Raisins, Single Brand
1 cup
Bran Muffins (Store)
1 muffin
Bran Muffins Low Fat
1 muffin
Brownies
1 oz or 1/2 brownie
Brussels Sprouts
1/2 cup frozen
Buckwheat Groats
1 cup cooked
Burritos with beans
1 burrito
Burritos with beans & meat
1 burrito
Cake (Low Fat Only)
1 piece
Cake (store brand)
1 piece
Candies with Nuts (ex Snickers)
2 oz
Carnation Instant Breakfast
1 packet
Carrots, cooked
1/2 cup sliced
Carrots, raw
1/2 lg carrot
Cashews
1 oz or 18 kernels
Cauliflower
1/2 cup cooked
Cheeseburger with bun
1 burger and bun
Chocolate Chip Cookies (Low Fat Only)
1 cookie
Chocolate Chip Cookies (store brand)
1 cookie
Chocolate Pudding, Instant
1/4 box or 1 oz
Cinnamon Toast Crunch
3/4 cup
Cod, pacific
3 oz or 1 fillet
Complete Oat Bran Flakes
3/4 cup
Complete Wheat Bran
3/4 cup
Corn Syrup (High Fructose)
1 Tbs
Cottage Cheese Fat Free
1 oz
Cracked Wheat Bread
1 slice
Cracklin' Oat Bran
3/4 cup
Cranberry Almond Crunch (Morning Traditions)
1 cup
Cream Cheese (Fat Free)
1 oz
Cream Cheese (Low Fat)
1 oz
Cream Sauce, Homemade
1 cup
Danish Pastry (Homemade)
1 pastry
Danish Pastry, Fruit Filled
1 pastry
Doughnut / Donut
1 doughnut
Dried Apples
1 cup or 13 rings
Dried Apricots
1 cup of halves
Dried Figs
5 pieces/fruits
Dried Prunes
1/4 cup or 5 prunes
Enchilada with Cheese & Beef
1 enchilada
Enchilada with Chicken
1 enchilada
English Muffin (Multigrain)
1 muffin
English Muffin (Wheat)
1 muffin
English Muffin (Whole Wheat)
1 muffin
Flour Tortillas
1 tortilla
French Fries (homemade or fast food)
4 oz or 1/2 cup
Frozen Fish Sticks
2 sticks
Fruit & Fiber Dates, Raisins, & Walnuts
1 cup
Gelatin
1 Tbs or 1 envelope
Graham Crackers
1 large rectangle
Granola Bars Low Fat
1 oz uncoated
Granola Bars- Hard and Plain
1 bar
Grapes
1/2 cup or 16 seedless grapes
Great Grains Crunch Pecan
2/3 cup
Great Grains Raisins, Dates, & Pecans
2/3 cup
Grilled Cheese Sandwich
1 sandwich
Healthy Choice Multigrain Flakes
3/4 cup
Healthy Valley Oat Bran Flakes
1 cup
Herring (Atlantic & pacific)
3 oz
Homemade Cream Sauce
1 cup
Honey Bunches of Oats Honey Roasted
3/4 cup
Honey Bunches of Oats with Almonds
3/4 cup
Honey Crunch Corn Flakes
3/4 cup
Ice Cream (Vanilla)
1/2 cup
Italian Salad Dressing
1 Tbs
Just Right Fruit & Nut
1 cup
Just Right With Crunchy Nuggets
1 cup
Kashi Good Friends
3/4 cup
Kashi Heart to Heart
3/4 cup
Lasagna with meat
1 serving
Lemon Juice (canned or bottled)
1 cup
Lemon Juice Raw (Concentrate)
1 Tbs
Lemonade (frozen from concentrate)
8 oz
Liquor (80 proof)
1 jigger
Low Fat 100% Natural Granola with Raisins
3/4 cup
Low Fat Cottage Cheese
1 cup
Low Fat Frozen Yogurt
1/2 cup
Low Fat Granola with Raisins
2/3 cup
Milk Chocolate Candies
1 oz
Mixed Nuts (with Peanuts)
1 oz
Mixed Vegetables, frozen
1/2 cup
Mueslix Apple & Almond Crunch
2/3 cup
Mustard Greens
1 cupped chopped
Mustard, yeloow
1 tsp or packet
Nabisco Honey Nut Shredded Wheat Bite Size
1 cup
Nabisco Shredded Wheat
2 biscuits
Nachos with Cheese
6-8 chips
Nature Valley Cinnamon & Raisins Granola
3/4 cup
Non Fat Yogurt with Fruit
8 oz
Oat Bran Muffin
1 small muffin
Oatmeal Cookie (homemade)
1 cookie
Oatmeal Cookies (store)
1 cookie
Oatmeal Crisp with Almonds
1 cup
Oatmeal Raisin Crisp
1 cup
Oriental Vegetables, frozen
1/2 cup
Original Shredded Wheat & Bran
1 1/4 cup
Pancakes (dry mix)
4 pancakes
Pancakes (Homemade)
4 pancakes
Peanut Butter Reduced Fat
1 Tbs
Pies (homemade)
1 piece or 1/8 of pie
Pistachios
1 oz or 48 kernels
Postum (Coffee Substitute)
1 serving
Pretzels, hard & Salted
1 oz
Pumpkin Seeds
1 cup, cooked
Quaker Oat Cinnamon Life
3/4 cup
Raisin Squares Mini Wheats
3/4 cup
Raisins
1 oz or 1 small snack box
Snack Cakes-creme filled
1 cake
Special K Low Carb
1/2 cup
Special K Red Berries
1 cup
Spoon size Shredded Wheat
1 cup
Stevia Sweetener (processed)
1tsp
Stevia Sweetener (unprocessed)
1 tsp
Sweet Roll Low Fat
1 pastry
Sweetened Instant Iced Tea
1 cup
Total Corn Flakes
1 1/3 cup
Tuna Fish (in water)
3.5 oz
Walnuts
1 cup or 7 walnuts
Water chestnuts
4 water chestnuts
Wheat Berries
1 cup cooked
Wheat Flour, Whole Grain
1 cup
Wheat Thins, Reduced Fat
1 cracker
Wheaties Raisin Bran
1 cup
Wheetabix Whole Wheat
2 biscuits