I have a secret that I need to share with you. I am nearly 56 years old and just started cooking less than 2 years ago. I was always lucky enough to have my partners prepare the meals. I did the dishes. I thought it was a great deal for me as they were terrific cooks and also enjoyed eating a healthy diet.
Being newly single, I had to fend for myself. Since I do not eat out, I had to learn what this whole cooking thing was about. I felt inept, overwhelmed, and didn't know where to start.
One of the many gifts my cancer gave me was to learn how to ask for help. I asked a good friend of mine to teach me some simple recipes. She taught me one that I use as a staple in my diet nearly every week. It was an excellent starting point for me. It is easy to make, inexpensive, and makes many servings. And it is, of course, kidney stone safe. I will post it at the end of this article.
Many of my patients tell me that they do not know how to cook. And even if they did, they don't have the time to shop, meal plan, and prepare daily meals. I explain to them that if I can learn to cook, they can too.
For me, the key was to start with one essential dish to increase my confidence so that I could build upon some simple recipes and work my way up the ladder. What I mean by "essential" is that I needed to learn to cook my son's favorite dishes as well as meals that I would enjoy as well. Many times this meant cooking two recipes per meal. So although we are only two, I do have to make two different dishes on occasion. This is why I am a big fan of precooking my meals on the weekend.
For those of you that say you don't have time, I say "find the time." I totally understand that you are most likely doing an "eye-roll" as you read that last line, but I don't care. The truth is to find the time now, or your next stone will take time from you later. Too harsh? Maybe, but I am here to be honest.  And I am honest because I don't want you to get another stone. I really don't.
Another friend of mine once said, "if you can read, you can cook." Every new recipe I reviewed sent a wave of uncertainty through my body, but I found when I repeated my friends' phrase I was able to get my way through all the steps and darn it if I didn't start making delicious food!
Since I don't use any sodium in my dishes, I would experiment with spices and herbs. I learn something every time I push myself to cook new food, and I really love going through cookbooks or searching the internet for new recipes.
If a recipe calls for high oxalate ingredients, I get a substitution. If the ingredients list calls for extra sugar or salt, I do NOT use it. If I bake, I try the recipe many times until I get the added sugar at its lowest point without making my son mad.
I guess the point of this article is to push you a bit. You can't eat out every day and maintain good health. To lower your sodium and added sugar consumption, you must get in the kitchen. There is no way around this fact.
Here is the dish I make most weeks. You can vary the protein or skip the protein if you are a veggie person. Don't forget, "portion, not perfection." If you don't eat meat, use 1-2 cups of any bean that is less than 50 mg/cup. That's not a lot of oxalates considering you will get many meals from this recipe.
---
Nats' Ground Chicken and Veggie Mix-Up
3-4 SERVINGS
Ingredients:
1 pound of ground chicken (or any protein you like).
Variety of low oxalate veggies (look at your oxalate list to choose what you want and LIKE).
I garnish with whatever fresh herbs I have in the house. Basil, dill, mint, or rosemary and thyme are my favorite go-to herbs. I squeeze lemon or lime on top as well before I serve. Sometimes I will also add a bit of goat cheese on top. Since I use no added salt in the recipe, I like using a bit of cheese on top to bring out flavors.
Directions:
Add olive oil to a medium saute pan and heat on medium-high heat.
When the oil is shimmering, add 1 chopped onion (you can also add some garlic, I can't tolerate garlic so I skip it).
In another saute pan, put oil in the pan and cook ground chicken (or whatever protein you have chosen).
Chop and add your other low oxalate veggies to the pan with the onions.
When your vegetables are cooked add whatever herbs or spices you want.
After your chicken is done, add veggie mix and you are done!  So simple and so good.
---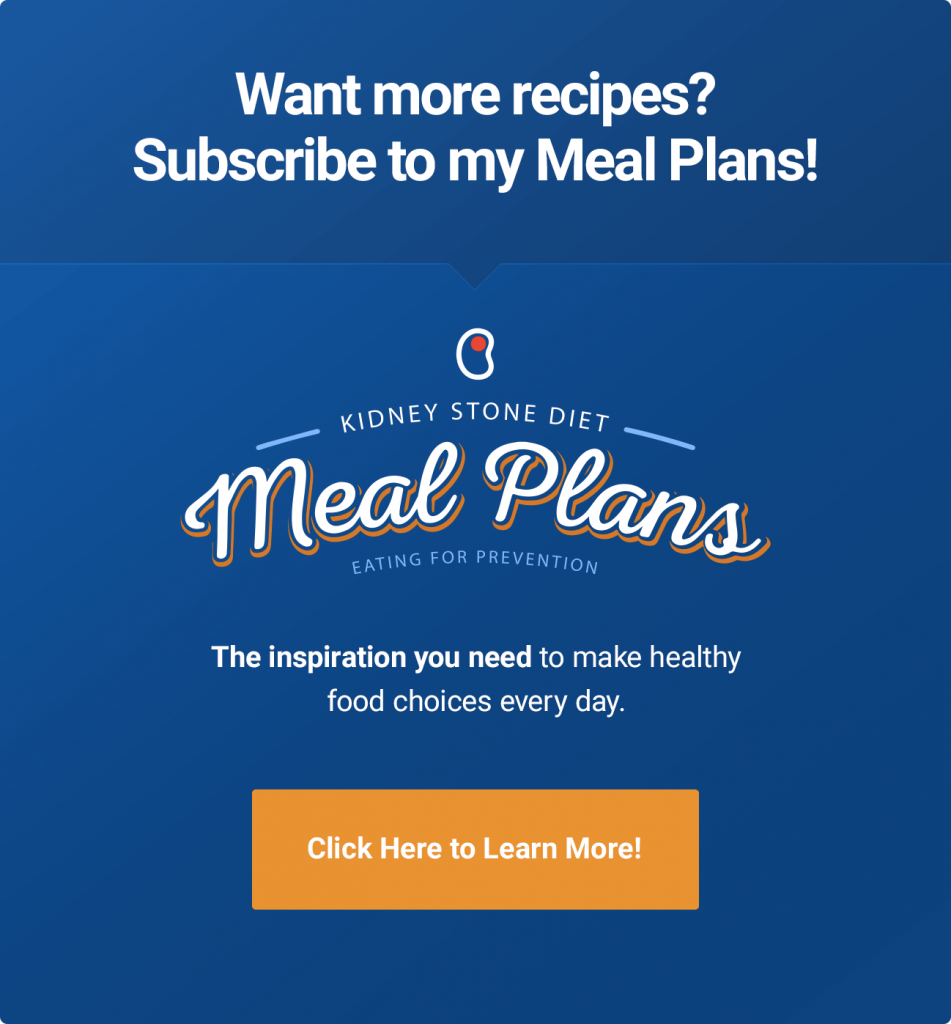 Every week I reflect on the prior week's meals and do my best to vary my veggies. I do not want you guys eating broccoli and cauliflower every single week. There are so many veggies you can eat on a low oxalate diet. Please look at the oxalate safe list and buy different varieties to not only keep your meals exciting but to maximize your nutritional intake.
When you go grocery shopping stock up on whatever low oxalate veggies you find on sale that week. This way, you can quickly round them up on a day where you don't have time to think too hard about what to cook.  Don't forget to throw in some veggies with omelets or have as a side dish for lunch. Ditch the chips with that sandwich and add a healthy, colorful, vegetable.
Stocking up on frozen vegetables will save you so much time going forward, and you will never have an excuse for not having healthy options at your fingertips.
I will soon be adding a recipe page to my website so that you can have access to more healthy Kidney Stone Diet meals!
Do you have any kidney stone friendly recipes you would like to share with me? Send them my way!